February 4, 2021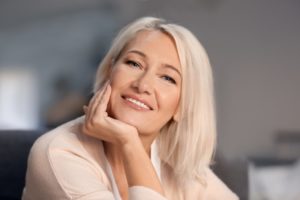 If you're a single person who wears dentures in Tysons Corner, you may be hesitant to go out on a date for fear of an embarrassing mishap. This can lead to unnecessary isolation, but you don't have to settle for this. Thankfully, there are steps you can take to ensure a confident and attractive smile. Continue reading to learn how taking the right steps and visiting a dentist can help you overcome any apprehension!
Practice Talking with Your Dentures Inserted
One of the cornerstones of a successful date is the conversation that transpires, as it allows both people to learn more about each other. By practicing speaking with friends or family on the telephone, or talking to yourself in the mirror, you can become more comfortable with communicating with your dentures.
Choose Food Carefully on Dates
There are certain foods that can cause problems for dentures, as leftover particles can become lodged, making for an uncomfortable evening. You should also be mindful of eating sticky foods and desserts that can pull your dentures loose.
Don't be Afraid to Smile
Many people who wear dentures smile conservatively, only showing a small portion of their teeth. This can send a message to your date that you're uninterested and uncomfortable. Instead of risking the wrong message being conveyed, go ahead and let your personality shine by displaying a normal smile. If you're apprehensive, you can practice in the mirror to see how it will look.
Make Sure Your Dentures are Secure
One of the biggest fears of wearing dentures on a date is for them to slip or dislodge. Before your date gets underway, you can gently prod the dentures to make sure they are secure. If they appear to be loose, you may consider adding some adhesive.
Kiss Carefully
If any kissing is involved on your date, it has obviously been a relatively positive outing. You don't want to ruin it by allowing your passions to overtake you. Because prosthetic teeth don't transfer sensation back to you the way that natural teeth would, you may apply too much pressure. This could make your dentures shift. To be on the safe side, use some restraint when kissing.
How Your Dentist Can Help
For optimal security, you may consider having your dentist examine your dentures before your big date. He or she can make recommendations for presenting your best smile. More importantly, if there are any issues that could threaten your oral health, a plan of action can be developed to fix the problems.
By taking the above information into account, you can experience the joy of making a new love connection and allowing your personality to soar!
About the Author
Dr. Juan Eduardo Alvarez graduated from the University of San Marcos. He then received additional specialized training in prosthodontics at the University of Rochester. A member of the American College of Prosthodontics, Dr. Alvarez uses his vast knowledge and experience to help his patients regain full and functional smiles by placing dentures at Tysons Corner Dentists. He can be reached for more information or to schedule a visit through his website.
Comments Off on How to Overcome Your Fears of Dating with Dentures
No Comments
No comments yet.
RSS feed for comments on this post.
Sorry, the comment form is closed at this time.