Dental Implants – Vienna, VA
Reclaim Your Smile for a Lifetime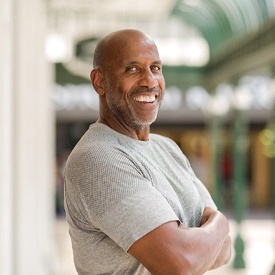 If you're missing one or more teeth, you have several options when it comes to restoring your smile. It's important that you choose to replace your missing pearly whites right away to avoid complications of tooth loss, like poor oral health, jawbone deterioration, and an increased risk of health issues like heart disease. Thankfully, traditional options like dentures or dental bridges that need to be replaced after several years of use aren't your only option anymore! At Tysons Corner Dentists, we can help you reclaim your smile for a lifetime with dental implants in Tysons Corner. Read on to learn more about this unique tooth replacement solution and call us today to schedule your consultation.
Benefits of Dental Implants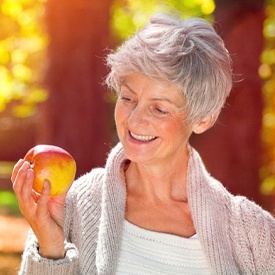 Dental implants replace missing teeth both above and below the gumline with the help of small titanium posts that are anchored directly into your jawbone. This unique placement allows them to offer a wide range of important benefits, such as:
Who Dental Implants Can Help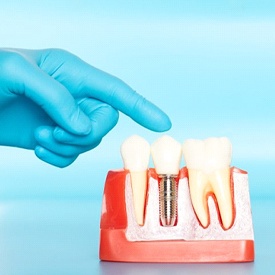 After reading about all of the benefits they have to offer, you might be wondering whether dental implants near Tysons Corner are right for you. While the only way to know for sure is to schedule a consultation with us, virtually any healthy adult with missing teeth can complete their smile with dental implants. However, some patients may require preliminary work before receiving implants. If that's the case, we'll work with you to maximize your chances of successful treatment.
Who Is a Good Candidate for Dental Implants?
During your dental implant consultation, we'll check for three primary factors:
Sufficient general health to undergo minor surgery
Good oral health with no indications of tooth decay or gum disease
Jawbone that is healthy and strong enough to accommodate dental implants
If you don't meet all of these qualifications at first, don't worry! Preliminary procedures like tooth extractions, bone grafting, and gum disease therapy will often be able to solve any problems that stand between you and your new smile.
Once we've laid a healthy foundation for your new pearly whites, we'll discuss your options for restoring your implants. No matter how many teeth you're missing, your implant dentist near Tysons Corner can help you achieve the beautiful, confident smile you deserve.
Missing One Tooth
To replace one missing tooth, we can surgically insert a single titanium implant post into your jawbone where the missing tooth's roots once were. After it has fused with the surrounding bone tissue, we'll attach a beautiful, custom-made dental crown to the top of the post for seamless, lifelike results.
Missing Multiple Teeth
An implant-supported dental bridge is an excellent way to replace several missing teeth in a row with a single restoration. One dental implant on either side of the gap in your smile can anchor replacement teeth securely between them. This offers superior support without wearing down the adjacent healthy teeth.
Missing All Teeth
Traditional dentures are a classic way to replace a full arch of teeth, but they often cause irritation, inconvenience, and frustration as they lose their fit over time. With a few strategically placed implants, an implant denture can replace all your missing teeth with ideal function and comfort.
Start-to-Finish Dental Implant Treatment
Tysons Corner Dentists is proud to offer convenient start-to-finish dental implant treatment. Your Vienna implant dentist Dr. Abril has the skills, experience, and state-of-the-art technology to personally perform every step of the dental implant process. As a member of the American Academy of Periodontology and the American Board of Periodontology, he has the extensive training needed to ensure your dental implant procedure goes as smoothly, comfortably, and effectively as possible.
Understanding the Cost of Dental Implants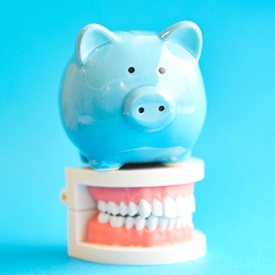 There is no set cost for dental implants. A variety of factors will go into determining the final cost, including how many dental implants you need, where they need to be placed, and what type of restorations will be used. We'll be happy to go over all the specific details of your treatment during your consultation, including the timeline and cost. Remember, while dental implants are typically pricier than dentures or dental bridges, they're a worthwhile investment in the long-term wellbeing of your smile!