November 22, 2020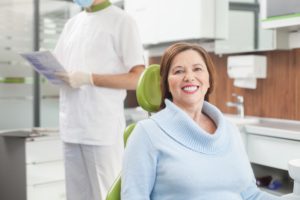 Despite the latest innovations in dentistry, tooth loss is still a common problem. In fact, at least 35 million Americans don't have any teeth left in one or both arches. If you're among those who have suffered the devastation of losing all your teeth, dentures were a convenient solution to rebuild your smile; however, they have their limitations. If you're finally ready to enjoy the next best thing to your natural teeth, there will be a transition from dentures in Vienna, VA to dental implants. Here's the information you need to ensure your journey is smooth.
1. Be Prepared for a Recovery Period
Dentures are a common solution to treat tooth loss because they are convenient since they don't require any surgery. While there isn't a recovery time, patients quickly find dentures have several disadvantages, which could have been avoided if they went the surgical route.
An implant-retained denture requires titanium posts to be surgically placed into your jawbone. As a result, it will take several months to heal from the procedure; however, you'll resolve the most common complaints of dentures, like slipping and irritation.
2. Enjoy a Wider Variety of Foods
A traditional denture rests on top of your gum tissue and is held in place using suction or an adhesive while dental implants anchor your new teeth to your jawbone. This allows you to regain as much as 70% of your natural biting force to enjoy many of the foods you haven't been able to chew with your conventional denture. After your jawbone has healed, you'll be able to eat meats, raw vegetables, and more, but you'll need to stick to a soft diet until you've fully recovered.
3. Ditch Complicated Cleaning Routines
Many denture wearers complain about a lengthy cleaning process. You can skip the hassle with an implant-retained denture. You care for it just as you do your natural teeth. You don't need any messy adhesives or cleaning solutions.
When brushing and flossing your replacement teeth, don't forget to clean around the abutments and dental implants to remove plaque and trapped food particles. Some patients find a waterflosser to be easier to use when cleaning the hard to reach places.
4. You Might Need Bone Grafting
Your jawbone has been slowly shrinking since you lost your first tooth, which is why your dentures don't fit as well over time. Therefore, you might need bone grafting to repair the damage before getting dental implants. Although it adds another step to your treatment plan, it's time well spent to ensure your new smile has the strong foundation it needs to thrive.
There will be a transition period, but don't let that deter you from replacing your missing teeth. In no time at all, you'll be chewing, speaking, and smiling without any concerns.
About Tysons Corner Dentists
Tysons Corner Dentists combines the experience of 3 dentists, including a prosthodontist and periodontist. We can treat even the most complex issues, like tooth loss. If you're interested in dental implants, we can help. Contact our office today to schedule your consultation.
Comments Off on 4 Tips for a Smooth Transition to Dental Implants
No Comments
No comments yet.
RSS feed for comments on this post.
Sorry, the comment form is closed at this time.