November 9, 2020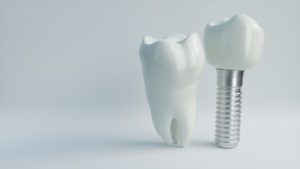 Although modern dental implants have been used since the 1970s, people have been using them in some form or fashion for much longer. The earliest known implant-like tooth replacements were used in the Mayan civilization dating back to about 600 A.D. Ancient skulls show carved stones in place of missing teeth. Some of them had even integrated with the jawbone in the same way that modern dental implants do. Thankfully, dental medicine today is much more reliable and effective. Here are three recent advancements in dental implant technology near Tysons Corner that have given this treatment such a high success rate.
Digital Implant Planning and Selection
Before placing dental implants, your dentist will use advanced technology to create 3-D images of your mouth and jaw. Jawbone deterioration is common after bone loss. If the implants were placed, they would ultimately fail due to lack of sufficient bone density to support them. By digitally examining your oral structures, your dentist can determine whether you'll need a bone graft before dental implant placement. That way, the bone will be strong enough to accommodate as many implants as you need to restore your smile.
Computer-Guided Dental Implant Surgery
For dental implants to forge a long-lasting bond with your jawbone, it's important that they're placed in just the right spot and at just the right angle. With digital technology, guided surgery can ensure that implant placement is incredibly precise. When the procedure becomes this predictable, there are much fewer risks and surprises. Your treatment results should be much more accurate.
Antibacterial Coating
In recent years, professionals have started coating dental implants in an antibacterial substance. This can ensure that your implants last significantly longer. Foods and drinks with high acid content can gradually erode your implants as well as your natural teeth. An antibacterial coating, combined with diligent at-home oral hygiene and routine dental checkups and cleanings, your dental implants will be much more well-protected. They could last for several decades, or even a lifetime!
More than three million Americans are already enjoying the benefits of dental implants. Thanks to these modern innovations, you can expect them to last for years to come. If you'd like to rebuild your smile with a secure, natural-looking solution, ask your dentist if dental implants are right for you.
About the Practice
At Tysons Corner Dentists, we have a skilled team of dentists who each bring their own unique expertise to the table. Because of this, we are able to provide a wide variety of services in our office, including the placement and restoration of dental implants in Vienna. To schedule a dental implant consultation with a team of expert, caring dentists, you can contact us by calling 703-848-8889.
Comments Off on 3 Technological Innovations That Make Dental Implants So Successful
No Comments
No comments yet.
RSS feed for comments on this post.
Sorry, the comment form is closed at this time.